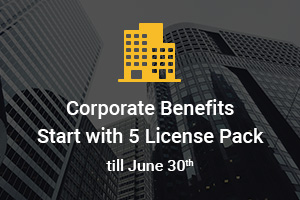 Today is the best time to get an iSpring license pack and take advantage of the Corporate Benefits Program.
Starting with a 5-license pack, you get access to the VIP zone with an exclusive iSpring Premium Plan and additional discounts on iSpring products and services.
22% Discount on 5 License Packs
One-year iSpring Premium Plan that covers:

Unlimited Upgrades
Priority Support by Phone
Up to 5 Case Analyses

40% Discount on Individual Training Sessions
20% Discount on Custom Development Services
Become an iSpring VIP client →
Your iSpring license pack brings great savings and premium service to maximize the values of your investment in iSpring software. Explore the incredible value that comes with the volume purchase.
Volume discounts
The more iSpring licenses you get, the less you pay for each one. The volume discount is 22% for 5-seat packs and grows with volume. If you get an iSpring Suite 5-license pack, each license is $543 instead of $697, and you save more than $700 on the package.
Learn more about iSpring volume pricing →
Unlimited Upgrades
iSpring supports content developers and provides them with new functionality to help them stay more competitive with the latest technologies and trends.
iSpring products are updated once a month on average. Major updates with new features are released three to four times a year. The iSpring Premium Plan that comes with your License pack provides all minor and major software updates free of charge.
Priority Support
Excellent service is one of the key values at iSpring. That's why iSpring clients can just call our support and work out their case on the phone with a qualified support expert.
A one-year Premium Plan is $697 per license. With your iSpring License Pack, you get the Premium Plan for free.  
What is included?
Expert level support via phone, email, and chat
Priority email and phone response
5 in-depth case analyses or remote assistance sessions
Case analyses
The Premium Plan also covers up to five detailed case analyses or remote assistance sessions. iSpring experts will get involved to help you promptly find a solution. If needed, they will provide remote assistance right on your computer.
Individual training
To explore iSpring tools in depth, you can get individual online training sessions at a time that's convenient for you. iSpring engineers will help you master the product and learn the advanced features and techniques. You also get individual recommendations based on your projects and specific requirements.
If you've prepared your questions regarding iSpring tools in advance, iSpring will include them in the program of a webinar. You will get individual recommendations based on the project and your specific requirements.
The Corporate Benefits Program allows you to purchase individual training sessions at a 40% discount. Plus, you will get a recording of the webinar session  for free.
Custom Development
With your license pack, you get a 20% discount for iSpring custom development services. If your unique requirements exceed the functionality of the stock version, you can get factory-customized iSpring software, tailored to your unique requirements.
iSpring engineers develop custom user interfaces with clients' branding, unique players, custom mobile apps, server-side projects, etc. The Custom Development Team is always ready to start working on your project, deliver it on schedule and exceed your expectations.
Get an iSpring Volume License with Premium Service →
This special offer is valid when purchasing 5 or more iSpring licenses. If you are considering a different volume, please contact us.
This offer is valid until June 30th, 2016.