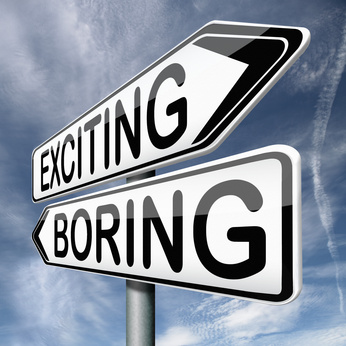 You definitely don't want everybody to yawn watching your presentation, do you? Then give your whole material a treatment to make it cool and catchy! Below you'll find a couple of pretty effective medicines:
1. Different formats pill
<p">Plain text throughout the whole presentation is not very entertaining, right? Moreover everybody has the preferred method of perception. Of course you can't please everyone, but you can make your course more interesting for each learner by giving information in different formats: enrich your courses with images and videos. Don't make your learners suffer from your unrequited love for text.
2. Interesting facts mixture
We're not so lucky to always speak on interesting topics. The number of boring themes is more than infinity. And we always have to take it up a notch to squeeze something out of it. The easiest and at the same time the worst way to present information is to simply bombard the learners with facts. Find some creative way instead: we all learn best through storytelling. So weave a story around the facts or tell some funny case from your personal experience (we all know about empathy). Such examples help to drive your point home.
3. Humor injection
When properly used, humor can juice up even the most boring topic. But be very careful with posology and method of administration: too much humor is just as bad as no humor. Funny videos and catchy images are great but if they aren't contributing anything to your learning goals, then they are like lipstick on a pig.
4. Anti-jargon antibiotic
Even if you are the most democratic teacher and you want your learners to be relaxed with you, some of their slang is not appropriate anyway. But it's not only about slang and jargon: avoid "business speak" or a tone that sounds trite, pretentious and confusing. Otherwise yawning is assured.
5.Personal address tablet
Of course the motivation has to come from within. But don't hold your breath on its appearing of nothing. Never forget reviewing your courses and presentations from your learners' point of view. Make sure all of these have a personal impact. Students should feel that you care of them and of what they feel about your course. Try to present the content as inviting and human, and, no matter what topic your course is about, present things with a personal tone by using words like "we" and "us".
We're looking forward to hearing your opinion.
Fully-stocked e-Learning authoring toolkit for PowerPoint. No training required to start!