October 2, 2015
eLearning for BIG Groups: MOOC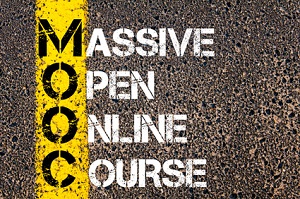 Online courses have taken off in recent years, though the history of self-directed distance learning goes back as far as 1840 when you could take a Pitman shorthand course by correspondence. Of course, the digital age has opened up a much larger platform for distance and eLearning opportunities. One of these opportunities is a MOOC.
MOOC stands for 'Massive Open Online Course'. Need a context for this? Think Khan Academy.
Let's take a closer look at what a MOOC is:
Massive – the word 'massive' is open to a wide interpretation: is it meant to reach 100 people? 10,000 people? That's up to the author of the course.
Open – Open registration, free of charge, reasonable cost… these are all concepts associated with a MOOC.
Online – This element is obvious, but what's not so obvious is the relative amount of peer or teacher interaction that will be included.
Course – Is this a course for credits at a university or college? An internal course for a corporation? Again, all up to the author.
Essentially then, a MOOC is an online, self-directed eLearning opportunity that can reach one person or a thousand people. It's intended to be available to anyone who is interested, at any time and in most available formats, including mobile technology.
Is a MOOC Just a Free Lecture?
A MOOC can encompass traditional mediums like videos, lectures, texts and visual aids but it usually also includes an element of interaction, whether that takes the form of a student-based peer review group, a user forum for Q&A, or interactions directly with the course instructor. The idea is that that the user base, which can be wide and varied, has access not only to the online instruction but also to a way of validating the information, or asking questions of a person who is knowledgeable in the field.
Further, in order to avoid re-inventing the wheel, a MOOC will often use open content and resources, presenting the information in different formats but relying on credible sources so as to maintain credibility themselves. In this format, a MOOC can be seen as a content-curated eLearning opportunity.
Like all self-directed eLearning opportunities, MOOCs require the user to be motivated to participate. A study from Stanford University's Learning Analytics group identified four types of students: auditors, who watched video throughout the course, but took few quizzes or exams; completers, who viewed most lectures and took part in most assessments; disengaged learners, who quickly dropped the course; and sampling learners, who might only occasionally watch lectures. The interactivity and relevance of the course material are both ways to mitigate the loss of too many students to the category of disengaged.
Why Are MOOCs A Trend?
People are busy. Work, families, sports, other activities. Like all technology, eLearning platforms give the student the opportunity to fit it into their schedule as they see fit, creating as much balance in their lives as possible.
A traditional 'in person' course is costly to host, when you consider the space needed, the time required, the cost to bring students in from various locations to participate and then re-deploy them to their existing work environments with little to no follow up.
Conclusion
In the past, a variety of skilled individuals (IT, videographers, instructional designers) were needed to create an effective online course. iSpring is the perfect medium through which to create a MOOC that can be applied to whichever group of eLearners the author intends, quickly and cost-effectively. Watch out for a future blog post where we go into more detail on creating a MOOC.
Do you have your own conception of a MOOC, or methods for creating a MOOC, that you'd like to contribute? Share your ideas in the comments below!