Are you searching for a reliable solution to create quizzes that will play on any device? Meet iSpring QuizMaker 7 – a new tool with a powerful set of authoring features and the unique ability to publish created quizzes to Flash, HTML5 or combined format.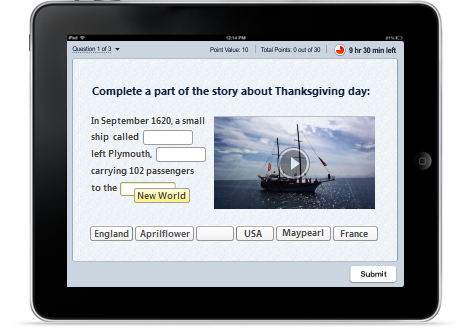 Thanks to its intuitive interface, the new QuizMaker 7 allows users to create professional-looking quizzes and surveys with minimal effort. That's why the new tool can be quickly integrated into:
E-Learning: Finished quizzes can be uploaded to the Web or LMS so that you can easily control the effectiveness of your e-Learning courses.
In-class teaching: Teachers can assign quizzes for homework, or play them during classes to engage students.
Corporate training: Companies can easily integrate iSpring's quizzes and surveys into their e-Learning systems to test the skills and knowledge of employees.
Sales and marketing: iSpring's online surveys can be used for marketing purposes. Placed on your company's website, surveys can be viewed and filled out from any desktop or mobile device.
Now let's take a look at iSpring QuizMaker 7 feature set. In the new version, we have reinforced all the advanced featured of QuizMaker 6 to support multiple publishing formats:
23 graded and non-graded question categories
Inserting images, equations, audio and video into questions
Branching scenarios
Customizable feedback messages
Plus, we have added plenty of new features that will help you create both effective and truly captivating quizzes and surveys:
Boosted Quiz Editor
New Slide View Tool
Flexible Scoring System
Boosted Quiz Editor
The toolbar of iSpring QuizMaker 7 has been equipped with new functions that give you more control over your quizzes:
Question Groups: Now you can organize questions into subject groups to create a more logical flow of your quiz's playback.
Randomization Options: Questions in your quiz can be shuffled in different ways, which enables you to create as many unique quizzes as you need without effort.
Linking Questions: Sometimes when you randomize questions, you still want some of them appear one after another.  Such questions can be linked together, or pinned to the beginning or the end of the quiz.
Audio and video settings: Now you can adjust the playback settings of the inserted audio and video. For example, you can specify, how many times it can be played.

New Slide View Tool
With the new iSpring QuizMaker, the design of every question can be flexibly customized. Using the Slide View tool, you can easily:
Adjust the layout
Select theme
Format background
Fine-tune fonts and styles
Flexible Scoring System
Now you can make your quizzes and surveys even more effective by adjusting multiple scoring settings for each particular question:
Specify the number of attempts
Set time limitation for each question
Define the value of each correct answer
Set a penalty for incorrect answers

Import from Microsoft Excel
If you have prior quizzes which you created before, you can reuse them in iSpring QuizMaker. Organize all existing questions into an Excel spreadsheeet and quickly import them into QuizMaker. Now you will be able to edit your questions, supplement them with multimedia, adjust scoring and more.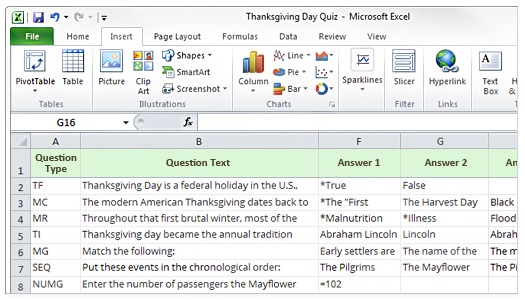 Easy Playback Anywhere, Anytime
Not only does iSpring QuizMaker make the creation of effective professional quizzes possible, but also very easy and engaging. Created quizzes and surveys can be published to multiple destinations:
Web
iSpring Online
LMS (SCORM, AICC and Tin Can)
Microsoft Word
Published to the combined Flash & HTML5 format, your quizzes will play on any desktop, laptop or mobile device, which allows your students to learn on the go.
Would you like to give iSpring QuizMaker 7 a try? Download a FREE 14-day trial now! Still need more information? View tutorials to take a look at the new features.