July 23, 2016
Create more advanced content using iSpring, right out of the box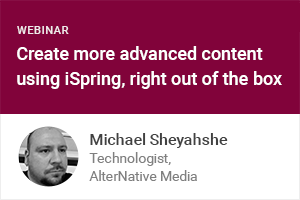 Do you follow iSpring webinars? If yes, give us five – if not, it won't take long to catch up. The latest webinar, starring Michael Sheyahshe, was devoted to creating more advanced content using iSpring right out of the box.
Let us introduce our expert. Michael Sheyahshe, Technologist at alterNative Media, has almost 2 decades of experience in information technology, e-Learning, and innovation across several industries. He has an extensive breadth and depth of experience with the design and development of interactive media, tools, simulations, and games for federal, state, and corporate entities, utilizing various agile methodologies. Michael is an expert in several technologies: Unity3D, Maya, Blender, HTML5, CSS3, XML, JSON, Bootstrap, JavaScript, jQuery, C#, and RESTful API services. Michael holds Bachelor of Arts (BA) degrees from the University of Oklahoma in Film and Native American Studies and a Master of Fine Arts (MFA) degree from the Academy of Art University.
Michael has given many public demonstrations, presentations, and BYOL sessions on innovation and creativity in e-Learning, and we are glad he honored us with his presence at one of the iSpring webinars.
You can learn more about Michael here.
While the topic was rather broad, Michael managed to cover many specific points like using branching scenarios, leveraging PowerPoint, creating interactions with Web objects, and much more. Care for details and special tips?
You can also learn how to use some sophisticated iSpring features and save on an iSpring license if you don't have one. Our iSpring pros, who also participated in the webinar together with Michael, shared both authoring and savings tips.
All the spectacular interactions Michael added to his presentation are available for you to see and play around with.
For those who are interested in the webinar's key points, here's a presentation to check out.
To make sure you don't miss out the next iSpring webinar with an e-Learning guru, follow our newsletters. See you at the next webinar!
As always, you are welcome to share your feedback and ask any questions in the comment section.