Recently iSpring has received Gold for Best Advance in Technology for Rapid Authoring in Brandon Hall Excellence in Learning Technology Awards. This significant even not only has pleased the team, but also has once again aroused the interest of e-learning professionals in iSpring company and software. One of these professionals is Geetesh Bajaj – a well-known blogger and the Microsoft® Most Valuable Professional (MVP) Award recipient. His interview with iSpring CEO Yury Uskov is set below. We are grateful to Geetesh for the questions.
Geetesh: What is the Brandon Hall Excellence in Learning Technology Award all about, and how does the team at iSpring feel about winning the Gold Medal this year?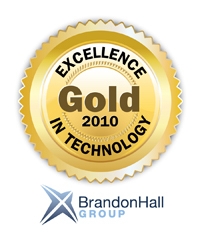 Yury: Brandon Hall Group is a leading research firm in training and development whose opinion is rightfully considered by many as impartial and trustworthy. This is why Brandon Hall Excellence in Learning Technology Awards have become a token of acknowledgement for e-Learning professionals.
iSpring's Gold for Best Advance in Technology for Rapid Authoring is an authoritative recognition of high quality of iSpring software and a reputable acknowledgement of company's orientation to customer needs and non-stop development.
Being one of the leading vendors in the e-Learning sphere, iSpring is focused on setting new standards of quality and functionality now and again, bringing even more advanced features and opportunities to e-Learning people.
We are very pleased to receive the award as the Brandon Hall recognition of iSpring's significant contribution to the development of e-Learning. Thousands of people also demonstrate their appreciation of what we do by buying our products every day. This gives us the inspiration to keep moving forward.
Geetesh: What are the strengths of iSpring's solutions that made it a strong contender for this award?
Yury: What would you prefer – eating the same bread loaf forseveral days or enjoying a new slice of deliciously fresh bread every day? I bet the second option is much better. In iSpring we are focused on perfecting our products constantly so that our customer enjoys "fresh" software every time he or she uses it.
E-Learning authoring software is supposed to help teacher to teach and student to learn. Our objective is to be beyond expectations of both. Developing new original features we enable customers to share their ideas successfully and inspire further interest in learning.
Paying much attention to development of advanced features, we also believe that e-Learning authoring software should be very handy. iSpring Presenter makes the creation of most sophisticated e-Learning course easy and fulfills the requirements of both e-learning professionals and those who are new to this sphere.
iSpring Presenter beautifully preserves advanced features of PowerPoint keeping the author's original idea undistorted. It also contributes to the creation of the course with its own unique features like narration recording, content protection, built-in QuizMaker, etc. Being sold in the market where the price diversification starts from $99 and ends with $999, iSpring appears to be a happy medium providing the astonishing price/quality ratio in the market.
iSpring is committed to making e-Learning authoring easy. That's why we remain inspired to discover unique authoring features that help author to meet deadline with an outstanding result. Keeping our pricing affordable we are keen on bringing iSpring software to perfection to help e-learning people teach, learn and cooperate more effectively.
Fully-stocked e-Learning authoring toolkit for PowerPoint. No training required to start!