Since this is the most long-awaited sale season of the year, we've launched it even earlier this time.
Now we're enhancing our Black Friday special with additional bonuses.
So, let's get to the point! We'll be glad to provide you and your friends with our ultimate Premium Support Plan.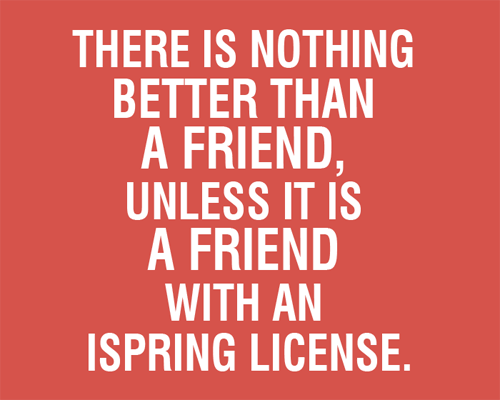 It takes only 2 steps to get a Premium Plan for you and your friends:
Be an iSpring user.
Recommend one (or more!) of your friends to purchase any iSpring tool at an exclusively discounted Black Friday price.
All a friend of yours should do is contact the iSpring Team and provide us with the name, company and email address your iSpring license is registered in. We need these details to be sure that both of you will receive your Premium Plans.
Voila! You're enjoying the best service for your iSpring tool and your friend is using one of the must-have tools for e-Learning. And both of you get the iSpring Premium Plan for free!
This Black Friday is full of bonuses! Make sure to use all of them!
This offer is valid till November, 30th.