August 31, 2016
Best Microphones for Voice Over: The Buying Guide
Recording a voiceover is a field of knowledge that includes many disciplines from learning how to speak into a microphone to selecting the right software for recording your audio narrations by reading a script. Picking the right recording gear is the lion's share of the overall success in recording a professional voiceover. In this article, you will learn how to select the right microphone that will help you record great audio narrations.
Microphone types
There are two microphone types, which have different construction and requirements for the recording appliances and room acoustics. These types are:
Usually, professional microphones use big XLR cables that are not compatible with standard audio inputs, so you need an external audio interface for that (external sound card). Let's see the different methods to connect a microphone to your computer:
Direct audio input – NOT recommended
External USB audio interface with XLR cable inputs
USB microphones (or headsets) that feature their own audio interfaces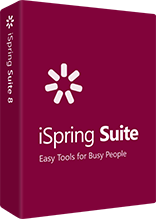 Fully-stocked eLearning authoring toolkit for PowerPoint. No training required to start!
Condenser microphone
These microphones are better for precise vocal work in a professional or home studio with echo-absorbing walls and good recording equipment. Condenser mics require an additional power supply (+48V, phantom power) that regular computer inputs don't have. Most mixing panels and external audio interfaces have phantom power onboard to power up condenser mics.
Generally, condenser mics cost more than dynamic ones.
Condenser microphones are very sensitive and they will pick up all mouth clicks and room noise while recording, so you should learn how to speak clearly. It will significantly reduce the post-recording editing work, which can be even more time-consuming than the recording itself.
You should treat a microphone of this type particularly carefully, because its recording quality may be reduced after some time just because of saliva or humidity in the recording room, not to mention physical abuse. Put your microphone in a protective case while not recording. Also, using a pop-filter not only does its primary job of blocking plosives (p-sounds), but also stops saliva from reaching the membrane, increasing the microphone lifetime.
Good condenser microphones under $250
If you are going to use a condenser microphone, you will need to buy some additional gear to start recording audio:
Here are a couple of articles on how to apply soundproofing techniques to your home studio:
Dynamic microphone
It is much easier to work with dynamic microphones, and they can be used in regular rooms without special equipment. We still recommend that you use some sort of echo-absorbing materials in your recording room (e.g., curtains, soft furniture, or a coat over your head) and use good recording equipment, not your laptop's audio input.
Dynamic microphones are generally more robust and conducive to stage use. For example, check out this durability test video for the legendary Shure SM58 microphone and you won't have any doubts left. If you are buying a mic for a rock club that implies vigorous use, it's got to be one of these.
Technologically, dynamic mics can be really small and don't require much power to work. In fact, most microphones in the world are dynamic microphones. For example, your cell phone and its headset have dynamic mics.
Good dynamic microphones under $200
USB condenser microphones
For those who want to use condenser microphone without additional equipment such as external sound cards, microphone stands, etc., there is a special combined type called a USB microphone. A microphone of this type is powered by just a USB port and includes its own tiny sound card inside. They are relatively affordable and very easy to set up.
Cheaper versions feature cheap quality, and may not be much better than a five-dollar microphone from Best Buy.
Good USB microphones under $150
Some USB microphones have regular XLR editions, so you can use them with any recording device: external audio interface, studio console, video camera with XLR adapter, etc. If you are only going to use your computer to record and don't want to buy an external USB audio interface, you can use a USB version. Otherwise, stick to the standard XLR inputs and select any recording device to work with.
Built-in microphones
It's worth mentioning that every single laptop today has a built-in microphone, and people are curious about using them for recording voice overs. These microphones are designed for basic tasks, for example, performing Skype calls or giving voice commands to your computer, but never for recording a voiceover! We don't recommend using built-in microphones unless you want to lose your customers or hurt their ears. ;)
How to set up a microphone
After you plugged in your mic, you need to set a normal recording level in the recording program. Setting the right recording level will prevent sound clipping and keep it loud enough at the same time.
iSpring desktop e-Learning authoring tools feature a Microphone Setup Wizard that helps you adjust the recording level of various microphone types for best recording results.
All microphones mentioned in this article belong to the Other recording devices type.
Watch this video to learn more about setting up a microphone for voice over recording:
Summary
Condenser microphones are better for voice overs, but it will require more attention and investment to make a good recording.
Dynamic microphones are easier to use, plus they are less sensitive and much, much more durable. A good dynamic microphone may be your workhorse for many years.
I'd prefer having both types of microphone and using the right one for certain recording conditions and purposes.
We at iSpring use the condenser MXL 770 microphone for recording voice overs for our video tutorials on YouTube. Read upcoming posts on how to set up the recording equipment and what software to use for audio editing.