August 5, 2015
Back to School Offer: Double Your Order for Free!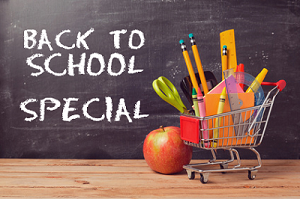 Special Offer for Academic Customers
Another August has rolled around, September is just around the corner, and the next school year is coming quickly. iSpring is pleased to announce a Back to School Special which benefits teachers and students all over the world in their eLearning endeavors.
iSpring has a long tradition of honoring academia with a 40% discount on all desktop authoring tools.
Now, when you purchase iSpring Suite 7.1 before August 31st, on top of that discount, we'll double your order for free! Not only that, we'll throw in a free upgrade to iSpring Suite 8 as soon as it's released this fall. Just show us your official student or faculty ID, and get twice the authoring power.
Three Augúst Reasons to Get iSpring Suite This Áugust
Get a 40% academic discount.
Double your order for free. (1=2, 2=4, 3=6…)
Get a free upgrade to iSpring Suite 8!
That's right: buy one copy of the coolest eLearning authoring tool on the market at a 40% discount, and you'll get another copy absolutely free. Buy two copies, and you'll get another two free! Buy three, get another three free! (See where we're going with this?) And then, supercharge your authoring power with a free upgrade to iSpring Suite 8! This is the perfect opportunity for people at all levels of K-12 and university education to expand their classrooms into the digital age.
Who Benefits from iSpring Suite?
Are you an instructor?

Equip yourself and your colleagues with the tool that will save you time and put courses on your students' tablets and smartphones. Take learning outside the classroom in 2015-2016!

Are you an administrator?

Now is the time to empower your whole faculty with the industry's leading eLearning technology. Make 2015-2016 the beginning of the future for your organization!

Are you a student?

Chip in together with your classmates and get a bundle of iSpring Suite to create the most stunning projects, reports, and even full graduate and post-grad dissertations!
Whether you have course material to share with your students, or whether you are a student who needs to create the perfect project to get that perfect grade, iSpring Suite is the tool for you. Don't miss this deal!
Take advantage of the Back to School Special to double your purchase of iSpring Suite 7 and get a free upgrade to iSpring Suite 8 before August 31st!