Published
April 17, 2014
|
Updated on
April 28, 2020
ASTD 2014 ICE: A.D.A.M. and iSpring Presenting Mobile e-Learning Technology Solutions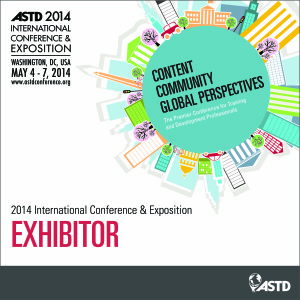 The iSpring team is excited to be heading to the 2014 ASTD International Conference and Expo! ASTD 2014 is being held in Washington D.C. this year from May 4th through May 7th.  This conference brings together over 9,000 of your learning colleagues from around the globe to share best practices and insights.  Each aspect of the training and development industry is covered for every level of practitioner, from CEO to specialist, from dean to student, and this year iSpring is honored to be a part of a co-session at this event!
In the co-session titled "Bleeding Edge No More! Time to Begin Training in HTML5" Principal Training Consultant for HiMark Solutions, Mark Simon and Michael Cerantola, Production Manager for A.D.A.M. will teach participants how to create mobile-compatible, interactive e-Learning programs with A.D.A.M. and iSpring Solutions. You will have the opportunity to build your own e-Learning training course complete with full-color animations, narration, and engaging content. Best practices and information documents about creating HTML5 learning programs will also be shared to optimize understanding and construction capabilities. We would love YOU to be a part of this exciting co-session at ASTD 2014!  Bleeding Edge No More! Time to Begin Training in HTML5 will be held from 3 – 4:15pm on Monday May 5th (Location: 150A).  Don't forget to bring your laptop and creative ideas; this session should not be missed!
The iSpring Team truly is honored to be working alongside A.D.A.M. whose On-Demand e-Learning courses consist of comprehensive, off-the-shelf medical education programs for the healthcare, academic, and pharmaceutical industries. Complete with audio narration and interactive quizzes shared through a story-board format, A.D.A.M.'s e-Learning courses provide an eased understanding of complex body systems, as well as medical and healthcare concepts and scenarios. iSpring Solutions' technology enables the A.D.A.M. team to create e-Learning courses that can be delivered with ease as mobile-ready content through Microsoft PowerPoint. "The iSpring technology platform has dramatically enhanced the future of eLearning course development for A.D.A.M.," said Vice President of A.D.A.M., Thierry Semoff, "With the need for mobile-compatible programs growing greater by the day, we are excited to work with the iSpring technology to introduce our interactive learning courses in HTML5."
The iSpring Team headed by iSpring Director of Sales, Clay Moore, will also be exhibiting at booth #422… stop by and say hello, we would love to meet you!
Will You be at ASTD 2014? See you in Washington D.C.!