Published
September 4, 2015
|
Updated on
January 18, 2021
7 Awesome Free Web Resources for Your E-Learning Courses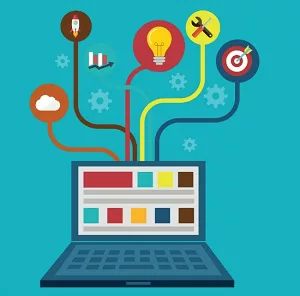 We're constantly told that beauty is only skin-deep, but the truth is people are very drawn to pretty things. Though it may seem shallow to say so, and you might want to believe better of your employees, the truth is you'll get a lot further with your e-Learning courses if you make them visually appealing.
Unfortunately, a lot of visual media is pretty expensive. Finding free images, videos, icons and more to incorporate into your PowerPoint presentations and mobile learning courses might feel impossible sometimes, but it's not. Here are seven ideas for where to start. Once you're familiar with how to find such resources, you may extend your search to others.
1. Images
One of the most obvious ways to make an e-course or mobile learning experience more appealing is to use lots of images. Humans are very visual – sight is arguably the most important sense – and appreciate liberating images that break up large strings of text.
Although many online sources promise "free" stock photos, this often means that they won't charge you a royalty, but will charge for the initial purchase. Don't be sucked in. Instead, opt for one of the amazing and truly free photo sites suggested by DesignModo or check out our article about 10 amazing places to find free images.
2. Videos
We all know about YouTube and Vimeo, among the best places on Earth to find quality free video. Archive.org offers stock footage of notable events in history as well as more mundane visuals, and all are absolutely free. Looking for cute animal videos? Try freeanimalvideo.org, with all the furry footage you could ever use. You'll find other great suggestions at Premium Beat.
3. Games
There are lots of ways to use games in your e-courses. Perhaps it's to make a point, practice a skill or even reward an employee for making it through a tough course module. Check out sites such as Kongregate, which offers free games you can embed in a website, blog or online course.
4. Templates
Sometimes you just want to create a great course without having to start from scratch. When that's the case, you can do a lot with free e-Learning templates designed for PowerPoint. Whether you want an interactive template with tabs, a template that simulates the publishing process, or one that is holiday themed, you'll find it at iSpring.
5. Icons
Whether you use them as buttons, to link to resources or simply for the sake of visual appeal, free icons are a lifesaver. Luckily, the web abounds with such resources, and all unpaid. If you want a professional pack for free, you can sign up with sites like Shutterstock for a test pack. Large sites like Iconfinder and Flaticon are totally free and very useful. If you want more specific icons, you can always search individual designers' sites as well; they often give away free vector icon packs.
6. PowerPoint Tutorials
One of the best ways to create a low-budget e-Learning experience is with PowerPoint, but if you don't know how to use the software, you won't get very far. Instead of shooting in the dark, check out a free PowerPoint tutorial that helps you get started with all the basics, like applying a theme, inserting images and presenting the slide show.
7. Music
Some background music can really get things going. Try a music site such as the Free Music Archive, where you can search by musical style or by curator, i.e. the person who collects the music and makes it available. If you find a curator you really like, you can stick with them for all your e-Learning courses. Doesn't get easier than that!
Ramping up the entertainment level of your e-courses might seem like a cheap trick, but it isn't. Anything you can do to catch and keep your employees' attention works out in your favor, because it means they are more engaged with the content and likelier to retain it. Next time you're stuck for how to up the appeal of your trainings and courses, turn to these resources.
Have any suggestions for great places to find free resources for e-Learning courses? Let us know in the comments below!