Published
August 29, 2014
|
Updated on
April 27, 2020
5 e-Learning Tips to Keep Younger Students Motivated
Advances in technology have begun to allow for a lot more freedom as a student. We are no longer tied down to brick and mortar buildings to further our education. However, with this freedom comes a great deal of self-discipline. Today we would like to share with you our top 5 e-Learning Tips for keeping younger students motivated.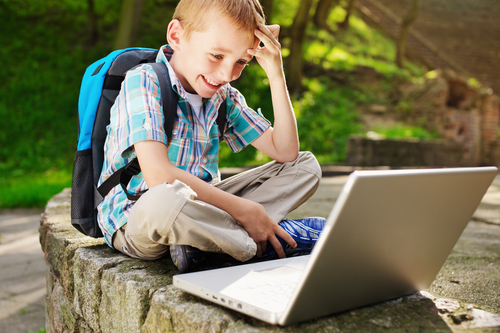 Provide a structured, but flexible learning schedule. Just like adults, children like knowing what to expect next. While you may not do math every day at exactly ten o'clock, math might always follow science (for example). So, the order of learning goals is consistent daily but your start and stop times will fit into the flow of the day.
Provide a variety of learning environments. This is definitely an area in which e-Learning gives you an advantage. While you may have a designated learning area in your home, you can make lessons mobile. Study in the park, in the backyard or in a museum.
Build on your students interests. If your child has a strong interest in a particular subject you can easily adapt lessons to incorporate their interests.
Use educational games to support learning material. There are many different apps and sites that offer fun games to encourage learning in all subject areas. These games can be used to provide fun breaks in regular lessons or as a source of learning for a subject.
Tie e-Learning activities into hands on learning. One of the most powerful tools you can incorporate is "teachable moments". After completing an e-Learning activity that focuses on math and measurement you can follow up with a cooking activity. Your child will then be able to take the knowledge they gained and apply it to real world situations.
Deciding to use e-Learning for your child's education will open up many more opportunities for learning and bonding with your child. They will have the advantage of learning in a way that speaks to their unique needs and you will have the advantage of coaching their academic career.
What e-Learning tips have you found helpful in keeping younger student motivated? Share them with us in our comment section below!
If you would like to learn more about how e-Learning can benefit your family please contact iSpring Solutions via our website, or any of our social media sites: Facebook, Twitter, or LinkedIn!