Published
December 31, 2014
|
Updated on
April 27, 2020
2014 in Review (and 2015 in anticipation…)
It takes decades for some traditions to become a fixture. We're taking tiny steps on the way to creating a new tradition: to sum up what we have accomplished in the concluding year, and to turn our regard to the future.
As New Year's Eve 2015 approaches, it's time to take a moment to reflect on the events and accomplishments of the past year, and to formulate some resolutions for the year to come. Here at iSpring, we have plenty in both categories; so, we're happy to share with you what we've done in the past year.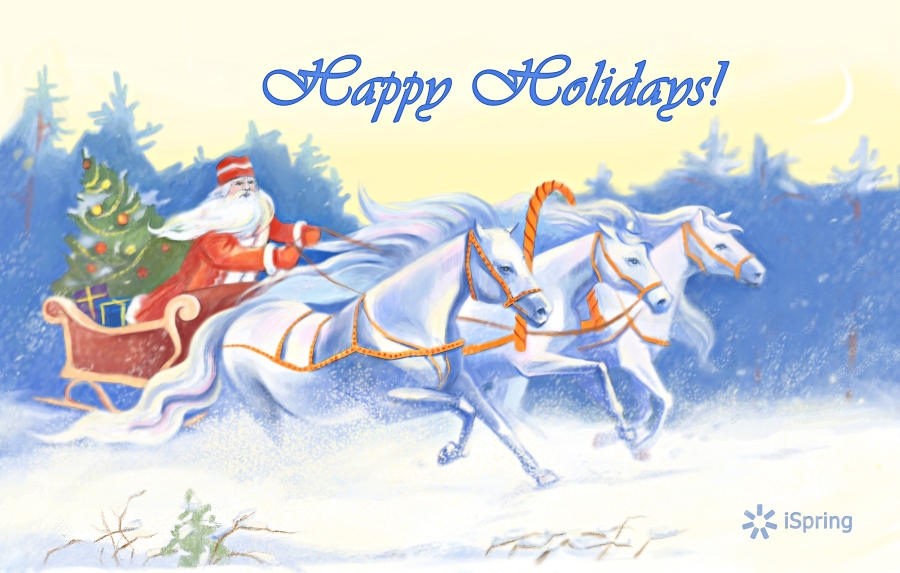 At the beginning of January, iSpring was blessed with a wintry gift: a wonderful piece of news from the Brandon Hall Group revealing the results of their Excellence in Technology Awards. iSpring Presenter, also known as the "must-have tool for e-Learning authoring", earned a Gold Brandon Hall Award for Best Advance in Content Authoring Technology. What a pleasure it was to be recognized yet again with the industry leaders' top honors.
iSpring rebranded and rebooted the top-shelf LMS, iSpring Learn, adding essential new features and updating the look and feel for optimal efficiency and ease of use. You'll love these exciting new capabilities, like user roles, which will allow you to wield even more precise power over the learning process from top to bottom.
The finishing touches were put on the crown jewel of iSpring's desktop family of authoring tools, and thus the long-awaited iSpring Suite 7 was at last made available. This was truly a landmark event for iSpring, as the entire 7th version represented an earth-shaking revelation in e-Learning, bringing your content to the mobile universe. Even more than that, however, the suite of tools got even sweeter with a brand-new addition: the iSpring Character Library.
The wide universe of mobile accessibility was made even wider with the development of iSpring Viewer, enabling users to view iSpring e-Learning content on Android devices. iSpring Viewer takes every bit of quality, detail-oriented engineering from its sister product for iOS, and brings it all to Android tablets and smartphones.
PowerPoint-to-HTML5 reached a new plateau in affordability, thanks to the offering of iSpring Free 7, which brings the latest in conversion technology to the world for no cost. Now, literally any teaching or training budget can accommodate this professional e-learning tool; the essential ability to express one's thoughts and share one's knowledge with the ease and rich capabilities of PowerPoint can now be brought to the world in a more modern way.
Desire and demand for an ultra-simple, ultra-precise PPT-to-video tool have been growing and growing over the past few years, and are likely to continue growing in the foreseeable future. In response to this, iSpring's development team produced River, a unique solution for converting your PowerPoints to the industry standard crystal-clear .mp4 format. Above all that, however, this is the first PowerPoint add-in which will deliver your content directly to YouTube with a single click.
iSpring proudly participated in no fewer than seven e-Learning conferences: ASTD ICE, mLearnCon, SABA Global Summit, DevLearn, Learning Solutions Conference & Expo, TechKnowledge, and the BlackBoard World Conference. It is our goal at these expos not only to share our fantastic technology with industry professionals, but also to keep our ear to the ground and our eyes on the horizon, watching, listening, discussing, and paying close attention to the latest up-and-coming trends on the cutting edge of the e-learning world.