Resume option in iSpring LMS
With iSpring LMS, learners can resume a course from where they left off. This feature becomes very important when it comes to large courses. It is also essential if some of your users cannot complete the whole course in one try.
First, let's publish our course with the resume option turned on.
1

Click the "Publish" button on the iSpring tab in PowerPoint.

2

Select the "iSpring Learn" publishing mode on the left. Make sure that you have specified your iSpring LMS account under the "General" tab.

3

On the "Playback and Navigation" tab, you will find the dropdown menu called "On restart."

It gives three setting options which determine how a course will behave after interruption:

Prompt to resume – a message will pop up asking if a learner wants to start over or resume
Always resume – a course will start from the place where it was previously stopped
Always start over – a course will always start over without any messages

For your learners' convenience, we would suggest having "Prompt to resume" selected. This will allow them to get back to work from where they left off.

4

Switch to the "Learning Course" tab and check what you want to rate: presentation progress or quiz score. We recommend rating both.

5

Click "Publish" and wait till the presentation is converted and uploaded to the server. It'll take a few moments.

6

When it's uploaded, invite a user to take the course. Please note that "Tracking" information is transferred from the Publish settings (paragraph 4) and may be changed after the course is uploaded.

7

Start the course as a student and interrupt it at any point, even in the middle of a quiz.

8

When you go back to this course again under the same username, you will see this message:

9

If we choose "YES", the course progress will be restored (e.g. the 3rd question of 4 available).
After a student completes the course, we can check out Content Activity under the "Reports" tab.
Look at the picture below which shows the "Content Activity" report for this course. It shows three attempts and that the course was completed after the third attempt, where it says Score 88%.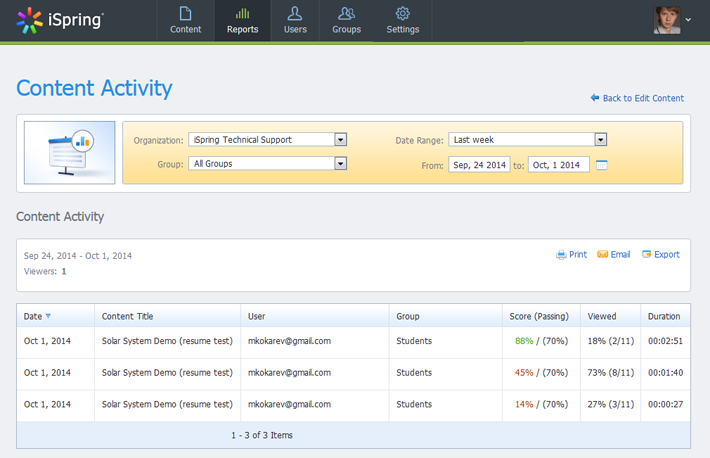 Another type of report that can be generated by means of iSpring LMS is the "Content Progress" breakdown. It shows which parts of the course have been viewed by a user at every try.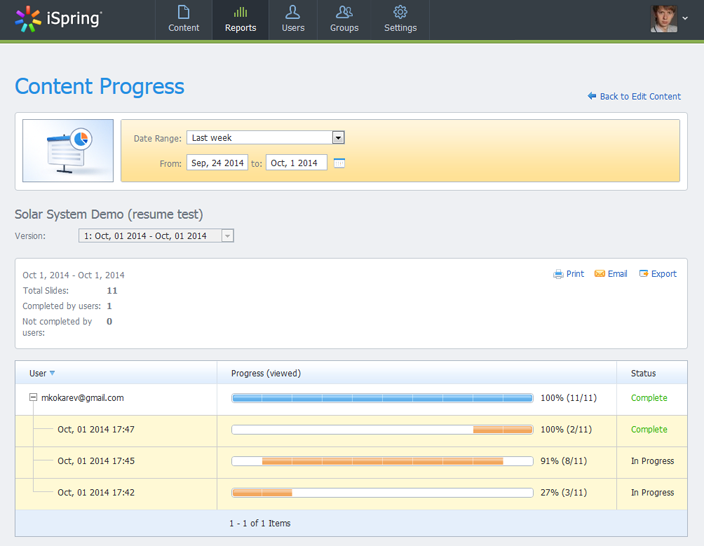 The key benefit of a course resume in iSpring LMS is that users can get back to a course even if they were interrupted in the middle of the quiz. Slide and quiz progress will be accumulated from previous attempts, and the final reports will not lose a bit of tracking information.
Related Articles