Publishing the software simulation with iSpring Pro
With iSpring Pro, you can publish the software simulation to the Web. iSpring Pro perfectly supports all the advanced features of PowerPoint, including animations, triggers, hyperlinks and more.
To publish the software simulation, go to the iSpring Pro tab in PowerPoint and click Publish.

In the publishing settings window, select the format for publishing. If you are planning to play generated software simulations on computers and mobile devices, publish to the combined Flash&HTML5 format.
Then select the publishing destination:
Publish for the Web
Send by email
Upload to LMS
Burn to a CD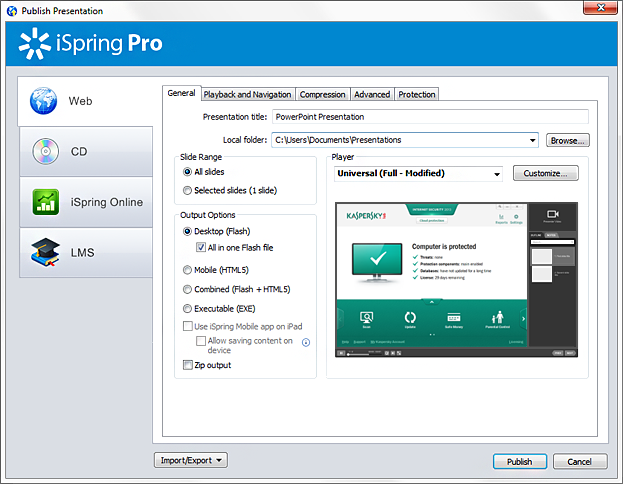 Before publishing, take a look at more opportunities to create software simulations which are offered by iSpring Pro.
Customize Player
iSpring Pro allows you to select the player for your software simulation. It's recommended to use the None player, which has no panels or buttons. If you'd like to use panels, select the Universal player and customize its colors, layouts and messages.
Build Branching Scenarios
With the branching scenario feature, you can create non-linear software simulation. This allows you to customize the order of slides, lock certain slides and control navigation. To set up branching, click the Presentation Explorer button on the iSpring Pro toolbar and use the branching column of the explorer window to organize slide order.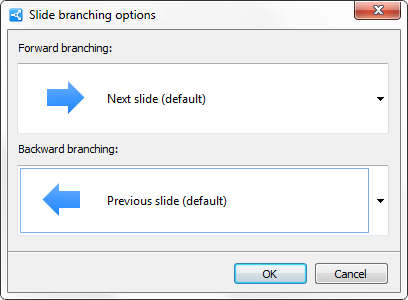 Adjust Slide Size
You can select the size of slides according to the size and aspect ratio of the screen. An interactive software simulation, created with iSpring Pro, will automatically adjust the simulation to the screen on which it's played.
Related Articles