Online Presentations: How to Increase The Conversion Rate of Your Online Store
How can I increase online sales of my store? Virtually everyone who works in the sphere of e-commerce wants to know the answer to the question. However there are plenty of answers and each of them is good in its own right. Let us take a look at one of them.
Imagine that you want to order a fridge online. You google "buy fridge online" and open several links from the list. Now which selling website do you prefer? Probably the one that provides the most detailed information about fridges- with pictures, models, prices, descriptions and testimonials.
Shopping at a website like this is much more convenient than going to a real store, as you can buy products in a comfortable atmosphere but still have access to all the required information to make an informed consumer decision.
It may be quite difficult to make the process of purchasing convenient enough using just images and texts. An interactive online presentation with animations, pictures and video is the perfect solution. A presentation like this will help users make up their minds about the purchase.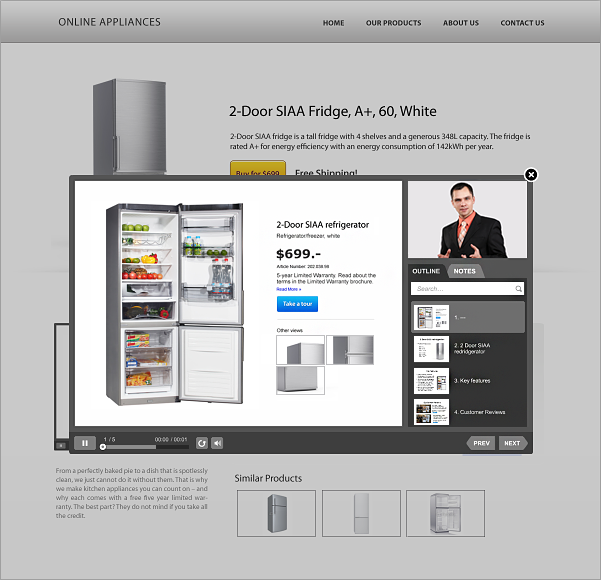 Getting back to our example, we can create an online presentation about each fridge from our online store. The presentation may include not only pictures of the fridge, list of characteristics and price, but also lots of media rich content.
Enrich the presentation with a tempting video of fresh fruit and vegetables lying in the fridge. Add a light background sound to create the atmosphere of a real store. Instead of tedious testimonials, use video reviews from YouTube. All these improvements can be done in PowerPoint with a single click of your mouse, thanks to iSpring Pro.
In addition to being very simple to create, online presentations can dramatically increase the effectiveness of your online store. In this article we are going to answer a number of very important questions about online presentations:
Why should I choose online presentations?
How do I create an online presentation in PowerPoint?
What are the key advantages of online presentations?
How do I optimize landing pages using online presentations?
How do online presentations make advertising more effective?
How do I increase traffic on social media sites using online presentations?
Related Articles