How to upload PowerPoint to YouTube with iSpring River
You can convert a PowerPoint presentation to an .mp4 video file with Spring River. The output video can be either saved on a hard disk or uploaded directly to YouTube.
Let's go over the YouTube uploading process. It takes just a few steps to upload your presentation to a YouTube account right from River. Follow the instructions below to share your PowerPoint presentations via YouTube:
1

Open the PowerPoint presentation you'd like to convert to video and switch to the River tab on the PowerPoint ribbon.

2

Click the

Publish

button to start the conversion.

3

The "Publish presentation" window will open. To upload your presentation directly to YouTube, select the respective tab and enter your YouTube account details by clicking on the

Sign In

link.

4

Enter the details of your Google account.

Sign In

.

Click Allow to let iSpring River get access to your YouTube account.

5

After account linking is finished, your YouTube avatar will appear next to "Account".

6

Now click the

Publish

button at the bottom of the window. You will see the notification window with recommendations.
After the publishing procedure is over, a pop up window will appear telling you that the presentation has been successfully published and uploaded to a YouTube server. You can view it in a browser and/or save a copy to your computer.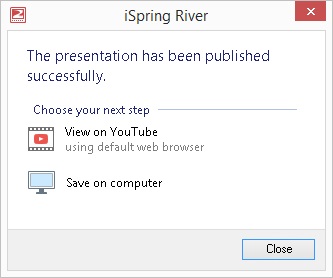 Was this article helpful?
Thanks for your feedback!
Your request to iSpring has been submitted.
Please check your email for support replies. We reply to every message asap. If you don't hear back from us, check your spam folder and add to your list of approved senders.
Oops! Something went wrong...
Please contact them at .